For the years of development made ​​in e-commerce trade , we recommend Prestashop platform for its ease of managing the store , and for it's lightweight platform on the net.
We have a solution that allows the migration of your online store to another e-commerce platform .
Que dados podem ser migrados de uma plataforma para outra?
Produtos com imagens, campos extras, atributos e variantes;
Categorias e as suas imagens;
Clientes com as suas moradas de entrega e faturação, assim como grupos de clientes;
Encomendas, produtos e estados de encomendas;
Fabricantes juntamente com as suas imagens;
Desde 2009 que esta solução tem satisfeito milhares de comerciantes on-line de todo o mundo. A sua interface é intuitiva, ajudando o procedimento de migração rápida e sem problemas.
Migre todos os seus dados a partir de 55 plataformas, incluindo Magento, OpenCart, VirtueMart e outros para o PrestaShop ou outros ou atualize facilmente e impecavelmente uma loja já existente.
Quanto custa migrar o seu site?
O preço de migração depende da quantidade de clientes, produtos e encomendas que deseja migrar
Exemplo de uma migração de uma loja on-line para a plataforma de loja on-line prestashop: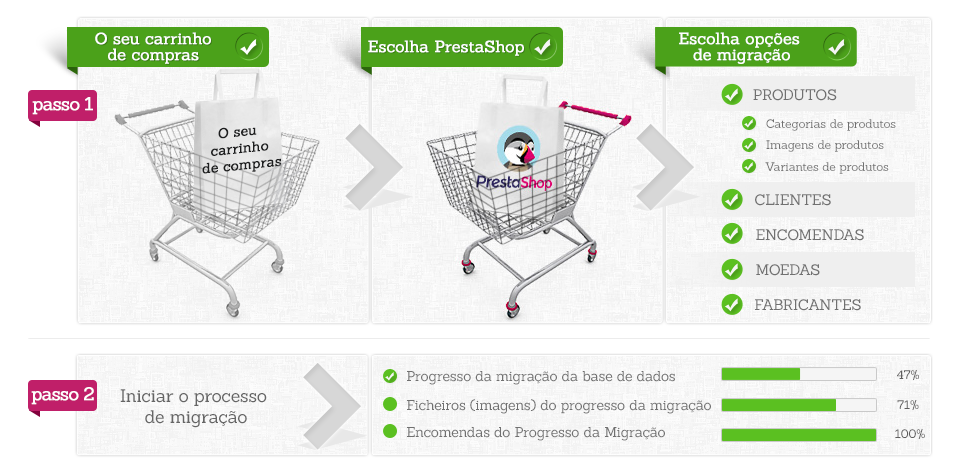 [jvbutton link="http://www.goalmarketing.pt/en/contact" color="btn-primary" size="btn-lg" type="btn-round" icon=""]Contact us for more details[/jvbutton]